Norv Turner: Injury Report Manipulator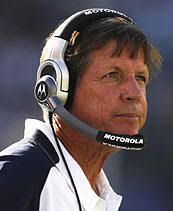 Wednesday it was announced that LaDainian Tomlinson was pulling out of the Pro Bowl because of his knee injury. Later in an interview with ESPNews Tomlinson said the severity of his knee injury should have been explained more to the public so that he wouldn't have been criticized by analysts the way he was. Turns out Tomlinson has a sprained MCL — not that we're doctors here. The point, as I discussed with my pops the other day, is that Norv Turner actually is one deceptive mofo. Follow me for a second.
For two weeks in a row, All-Pro tight end Antonio Gates was listed as doubtful with a toe injury. Both against the Colts and Patriots, Gates was doubtful after hurting his toe against the Titans. Doubtful means just that — doubtful to play, like 25% chance. Most guys who are listed as doubtful during the regular season don't wind up playing. About half of questionable guys play, and most guys who are probable play — just as the words would indicate. Moreover, Philip Rivers was doubtful as well for the Patriots game with a partially torn ACL. Both Gates and Rivers played. Now LaDainian Tomlinson, despite his knee injury, wasn't even on the official injury report for the Patriots game. He lasted what, three plays? So get this — Gates and Rivers are doubtful, but they play the entire game. Tomlinson isn't even listed as being injured, yet he gets replaced in the 1st quarter. What does that tell you?
If you put this all together, you come to realize that Norv Turner totally played the fans, the media, and pretty much everyone else except the Patriots. He absolutely manipulated the injury report. He got everyone to believe that Rivers and Gates were the problems and that Tomlinson was OK. He made everyone think the running game would be the focus and that the passing game wouldn't be working. Au contraire, mon frere. It was actually just the opposite. Instead, Rivers came out looking like a hero, and Tomlinson an absolute dud. Norv Turner is indeed a master manipulator. And yes, he's a heck of a lot smarter than we all thought.
Injury reports courtesy of Rotoworld:
LT's recent injury report
Philip Rivers' recent injury report
Antonio Gates' recent injury report