Sorry Eagles, There's No Moral Victory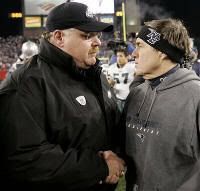 I cannot stand seeing people act like the Eagles got a moral victory for hanging with the Patriots and playing them so closely. Is everyone missing the point? The Eagles had the Patriots on the ropes, leading the ballgame by four points heading into the fourth quarter. That was a game Philly was legitimately winning, an upset firmly entrenched in their grasp. They easily should have, and could have won the game. What good does it do to play out of your mind for 45 minutes if you're just going to look like A.J. Feeley in the other 15, going three and out and throwing two picks in the final quarter? What good is it to pressure Brady for three straight quarters then give up a critical score, surrendering the lead late?
I'm failing to see what was so great about the Eagles' performance on Sunday night. In my eyes, it was as bad as it could have gone. How is it beneficial for your team to blow a game you should have won? That's not a moral victory; it's something the Eagles should be pissed off about. When New England finishes the year 19-0, nobody will remember that Philly gave them a close game in Week 12. They'll just know that New England was good enough to beat everyone in front of them, regardless of what it took, and that Philly was just another W.  Sorry Philly, but that loss should sting more than any other; it's not something for which you should be proud.