Chargers Screwed by Ed Hochuli's Whistle on Jay Cutler Non-Fumble Call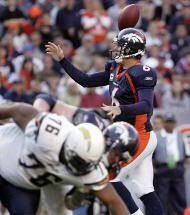 It was 2nd down, final two minutes of the game, Broncos looking to tie it up. In a play that seemed all too familiar to anyone who had seen the infamous Brady tuck rule play against the Raiders, Jay Cutler rolled right, let the ball escape his hand, and seemed to have fumbled the game away to the Chargers. Only problem, Ed Hochuli inadvertently blew his whistle as soon as the ball hit the ground, meaning only the fumble/interception could be overturned. By blowing his whistle too early on, Hochuli prevented the Chargers from taking over possession of the football. Hochuli knows he screwed up, and the Broncos know they caught a lucky break:
"I blew it," is how Hochuli explained it to Turner on the sideline.

"That is not acceptable," Turner said. "This is the NFL. Our guys fought hard to come back. It was just disappointing to have that kind of performance spoiled by that call."

"I think it was a fumble," Cutler said afterward, and he was one of many Broncos to say so.
That's a terrible break for the Chargers, but there's no way to be certain that they would have recovered the fumble had the whistle not blown. Additionally, the Chargers still could have stopped the Broncos on the 4th down play or the two point conversion to get the win. They didn't do either. Sure, I'm disappointed since the Chargers were one of Doc Brown's picks, but reality is that San Diego had this game won. Check out video of the final minute around the 2:20 mark to see the blown call: