Where's Tiki Barber Now?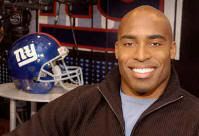 Not long after the Giants had won the NFC title game, advancing to the Super Bowl, did the question pop into my head: Where's Tiki Barber now? Ballhype reminded me of this thought and now I must ask it again. Where's Tiki Barber now? I never really got into the whole Eli vs. Tiki bout that started earlier in the year, but I was quite disappointed with Tiki. His first move out of the field and into the broadcast chair and he's ripping guys he played with no less than a year before? That was poor form. Poor form. He never needed to open up that can.
Alas, the Giants, Tom Coughlin and Eli Manning, are getting the last laugh. While Tiki talked a mess of ish how Coughlin ruined his enjoyment of the game, and how Eli wasn't a leader, the Giants brushed it off and shoved it up Tiki's ass. Barber retires and the Giants reach the Super Bowl. Where's he now for his response? I'm not an Eli fan in the least bit, but I'd like to know what Tiki's response is to what's ensued. Karma is a bitch. Oh yeah, and love it or hate it Tiki, Eli Manning is in the Super Bowl. I hate it, and Tiki must be swallowing his words. Hard.