Can Roger Federer be Best Ever Without Winning the French Open?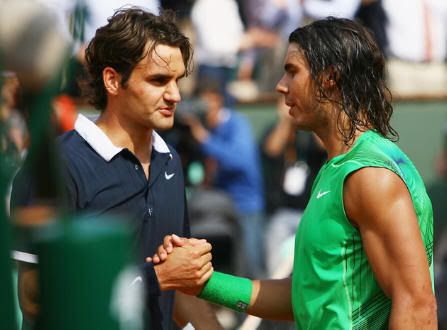 I had a great debate with Peter Brown on Sporting News Radio Sunday night. The whole conversation started because Rafael Nadal kicked Roger Federer's ass in the French Open finals, only giving up four games in three sets for his 4th straight title at Roland Garros. With a performance like that coupled with Roger's inability to win the French made Peter say that he can't consider Federer the best tennis player of all-time. On an absolutely basic level, it is hard to fight this argument, but I think it's faulty. Here were some of the several points to refute this notion.
First off, Roger's dominance on all other surfaces is unprecedented. From '04-'07, Roger won nearly every tournament he entered, including 11 of the 16 Grand Slam events. In four of the five he didn't win, he either made the finals or semifinals. Federer was 315-24 over those four years, good for a cool 93% winning percentage. That type of dominance is just silly. The counterargument would say Federer isn't playing in a competitive era. Well, before he came into his own, there were guys like Roddick, Safin, Hewitt, and Nalbandian reaching finals and still doing so. You telling me these guys wouldn't have more wins if Federer weren't around? If that were the case, what would you say about the competition then?
Secondly, Roger Federer is not a bad clay court player. He's the second best clay court player in the world, inferior only to what could wind up being the best clay court player of all-time — Rafael Nadal. What's the shame in being the second best on clay to the guy who could be the best ever on the surface? The dominance Federer portrays on all surfaces, the fact that he's so much better than anyone else at Wimbledon and U.S. Open, puts him on a different level. To me, it's not about whether or not Federer gets over the hump at the French Open against Rafael Nadal. Rather, Federer's legacy hinges on whether or not he's able to take home two-three more titles at Wimbledon and the U.S. and Australian Opens. If Nadal can start beating him at these tourneys, or if Djokovic can repeat his Aussie Open performance, then Federer doesn't deserve the title. But if he adds six or so more majors to his pocket, then his legacy is cemented as the best.
When it comes down to it, the entire system of rating tennis players is just flawed because the majors are played on different surfaces. Even if you were to try and create the perfect tennis player with a balanced, all-around game, he could still come up short on grass or clay against someone who's an incredible specialist on either surface. Bottom line, every player in the best of all-time conversation has holes in his case for one reason or another. The hole in Federer's argument could be the least imposing by the time he's done.