Charlie Manuel Wants Fans to Toughen Up on the Phillies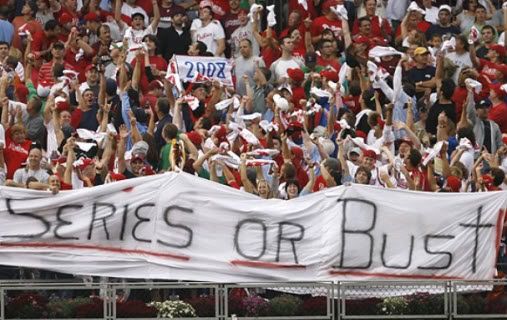 It's like some sort of Twilight Zone in Philly. Philly fans have carved out a reputation as some of the least-forgiving in the country, being notoriously known for booing Santa Claus. But with the Phillies pulling in a World Series title last year, the fans have much less about which they should be bitter. Much less. And apparently that is becoming a problem for manager Charlie Manuel who's unhappy with the team's 9-14 home record:
"I notice sometimes if fans are near our dugout and talking to our players, they always want to talk about last year, and that's good; I want them to keep coming to the games," Manuel said. "But I want the fans to start telling them they want to win this year, too. Of course they love us and everything, but maybe they should get on them a little bit."
This reminds me all too much of the Rachel Phelps line from Major League: "Maybe the problem is we're coddling these guys too much, yeah." It's like Manuel's living in some sort of alternate universe here dealing with Philly fans actually being happy. Now I'm not sure if it's the fans who are responsible for the effect, but the Phils could just be falling victim to the trend of complacency that inflicts championship teams; it's really hard to repeat as champions because players don't always work as hard the following year once they've reached the top. You could point to the team's excellent road record to negate that argument, which I guess would come back to Manuel's comments. Who knows, maybe there is something to what he's saying.
(via Sports by Brooks)