Ozzie Guillen: Dustin Pedroia Is a Jockey, Just Came Off Big Brown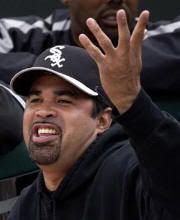 There's a reason Ozzie Guillen's a two-time Hall of Famer here at LBS, and comments like this one are helping his case for a bronze statue as well. Keep in mind that Ozzie Guillen was complimenting Red Sox second baseman Dustin Pedroia who had gone 8-for-8 against his team at the time of his comment:
"I never thought I was going to walk a goddamn jockey. 'Walking a guy who just came from being on top of Big Brown. Right now, he's on a roll. This guy right now is on fire. No matter what you throw up there, he's going to get it. I can't believe you can change professions in one year, go from the Kentucky Derby to the Boston Red Sox ballpark.
…
I think Pedroia is the heart of [Boston's] ballclub right now. A lot of people talk about Manny [Ramirez] leaving, I wish Pedroia was the one who was leaving because this kid can beat you so many different ways.
Honestly, how can you read a comment like that and not like Ozzie Guillen, or at least appreciate him for his comedic value. I can't believe you can go from the Kentucky Derby to Fenway, go from Big Brown to the batter's box? Does it get better than that? This guy is freaking hilarious. And if I'm Mr. Laser Beam Pedroia, I would assuredly take those words as nothing but a compliment.
Thanks to Jerry Bailey err Will Brinson at FanHouse for the story.