Joke's Up, Who Voted Bruce Bowen 3rd in the All-Star Game?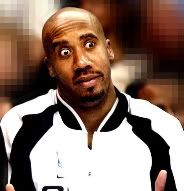 I'm well aware of how wacky fan voting for All-Star games can get. We had Giants fans using online programs to vote Barry Bonds into the All-Star Game. There was a movement to get scrub Rory Fitzpatrick into the NHL game a few years ago. The Canadiens got four players into this year's All-Star Game, possibly because of fervent hometown fans. Usually this stuff doesn't really surprise me. Until now. Spurs fans (and Rockets fans for that matter), came pretty hard in the All-Star voting this year. Fans of Bruce Bowen managed to vote him third of all forwards in the Western Conference. That's behind Tim Duncan who led all forwards far and away, and Amare Stoudemire who only beat Bowen by 70,000.
Bruce Bowen and his nearly 1.4 million votes, finished higher in the final ballot than the following players in this order: Ron Artest, Carmelo Anthony, Dirk Nowitzki, and Pau Gasol. Artest and Melo both have been injured (though they're still better than Bowen), but Dirk and Pau are the ones that really bother me. Dirk is a former MVP who is playing good basketball again this year. Pau never won an MVP, but he's an All-Star and a big reason why the Lakers are as good as they are. For him to be under a million votes is a joke. I'm not going to bother going position by position here, but I just want an answer: how did Bruce Bowen get voted third of all Western Conference forwards??