Chris Bosh's Twitter Changes Suggests He's Leaving Toronto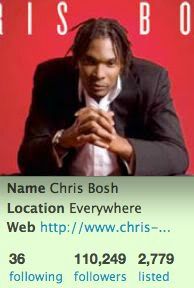 A week ago Chris Bosh's twitter feed caused some controversy when CB4 asked his followers where he should go in free agency and why. Bosh realized the way he phrased the question suggested he was leaving Toronto, so he made an adjustment and asked his followers if he should stay or leave the Raptors. More recent changes made to Bosh's twitter page indicates an attitude that he is set on leaving in free agency. I defer to the Toronto Star because they are following his moves more than I am:
The Raptors' all-star forward — at least, that's his designation until July 1, when the NBA declares open season on players out of contract — changed his location from Toronto to "Everywhere" on his Twitter account, and removed a biography section that noted his status as Raptors captain.
Sounds to me like he's pretty well set on moving on. Bosh's situation is pretty clear to me: he isn't a good enough number one option to lead a team deep into the playoffs, but he would be a great second option for a team that already has a star. I think he realizes that. It sucks for Toronto, but that's what Bosh has to do if he wants to win big.
Sources:
More signs Chris Bosh is leaving Toronto this summer [Toronto Star]