Joakim Noah and Derrick Rose's Letter Courting LeBron and Dwyane Wade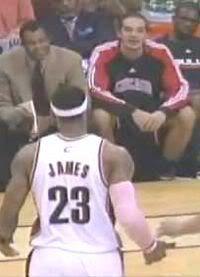 It's no secret that the Chicago Bulls were not very good this year. They finished just at .500 with a record of 41-41.  They made the playoffs because the NBA has broken system. And last but not least, they did get beaten by the Cleveland Cavaliers like everyone said they would (but they did put up a fight in game 5).  So, what do the Bulls need to greatly improve themselves for next season? Well, sign one of the major free agents of course — LeBron James or Dwyane Wade.
So, Derrick Rose and Joakim Noah sat down and wrote to the superstars about how they would like to see one of them on the Bulls roster next year. Well they didn't really write it — Bill Simmons did. But it highlights the real issues of the team and it's kind of funny too.
Dear LeBron and Dwyane,

We are wired correctly. We give a crap. We want to win. We are really really good. We are warriors. We could absolutely be the second-best and third-best guys on a team that wins multiple titles. Sadly, this can't happen without one of you. Please think about Chicago. It's cold during the winter, but during the spring and summer, there's no better place. It's the No. 3 TV market. It's the city that once had the greatest player ever. We're firing our coach and GM this summer; if you want, you can pick the next two guys. We want to win titles. Not title … titles. By the way, Joakim wants you to know that he isn't nearly as annoying if he's your teammate.

Much respect,
Joakim and Derrick
Although I don't see Wade leaving Miami or LeBron wanting to play alongside Noah, who couldn't stop trash talking during the playoffs, the Bulls can still dream, right? They'll be getting a new head coach this off season and they have the money to go out and get a superstar player. Anything is possible. I say bring back Jordan.
Sources:
Dwyane, LeBron and other humans [Bill Simmons/ESPN]
Rose and Noah's Letter to LeBron and Wade [Real GM]