Tayshaun Prince Calls Out Kobe Bryant the Ballhog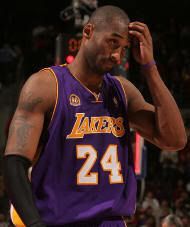 Thursday night in Detroit, Kobe Bryant had a triple-double. If you asked him though, he probably wouldn't have been proud of it. Kobe had 39 points, 10 boards, and get this — 11 turnovers. Nice. I'm guessing he had so many turnovers because nobody else on his team touched the ball. That's something Tayshaun Prince noticed (while Prince wasn't busy scoring 22 points and making the game-winning three pointer). After shooting the Pistons to a win, Prince joined WDFN's post game radio show and had this to say about the final play of the game for the Lakers that Lamar Odom airballed:
Kobe pretty much took all of the shots in the second half so when another guy has to make a play late in the game it's kind of tough for him because he hasn't had the ball in a while.
True, the Lakers wouldn't have been in the game that closely if Kobe hadn't carried him in the second half, but he has to realize his teammates need to be more involved. Wasn't that the thing about MJ? For all the great clutch shots he made, didn't he also have just as vital a part setting up his teammates like Steve Kerr? Either that or Kobe has to do a better job getting open in order to take those potential game-winners. Anyway, getting back to it, great words from Tayshaun — and completely true, too.