Hey Duke, Thanks for Playing!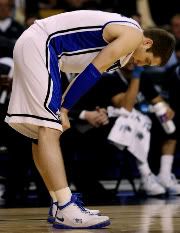 Duke came out on Thursday night in the Sweet 16 and did what they've done best lately in the tourney — they lost early. Yes, Duke got hammered 77-54 by Villanova, a loss that was so bad it managed to make UCLA look semi-decent. The Dukies shot 16/60, only 27% from the field, and an even more pathetic 19% from 3-point land. That makes it five straight years the vaunted Blue Devils haven't been able to escape the Sweet 16. Yes, that means Duke hasn't won more than two games in the tourney since '03-'04. The Blue Devils are totally overrated and they showed it once again. I'm just trying to figure out what was more overrated this year — Duke, or the ACC.
Sure, you can tell me that Duke had an off night, the kind that can happen to any team. But I was saying it from the start that a team reliant on three point shooting can go cold at any point and be doomed. Conversely, Pitt hasn't played its best but still advanced because of great rebounding and timely clutch shots. Duke did have solid non-conference wins at Purdue and at Xavier, but the Blue Devils showed that they were just like every other ACC team — overrated. Clemson, Wake Forest, and Florida State were all middle of the pack conference teams, just like the ones in the Big 12, Big East, Big Ten, etc. Because of the hype surrounding the conference, they got higher seeds and higher rankings than they deserved.
Now the ACC is down to one team standing — UNC. The Heels have even been overrated, considering people made it seem as if they were the best college basketball team ever, able to drop 100 on anyone at any time. They're no doubt that they're a good team and potentially our national champions, but as good as they were made out to be, they shouldn't have lost four games. So once again Duke got high rankings and high seeds all throughout the year. Once again, the Blue Devils proved they couldn't get it done in crunch time. When will they stop getting the benefit of the doubt? When will Dukie V. see the light?