My Crappy NCAA Tournament Picks: Day 5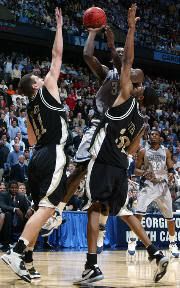 USC Totally Blew it: So let's recap, USC had complete control over UNC and was dominating that game for 33 minutes or so. Then Taj Gibson committed his fourth foul, went to the bench, and all hell broke loose. North Carolina went on a serious run, Tim Floyd decided to act like a five year old, get a technical, and before you knew it, it was game-set-and-match Tarheels. That still didn't stop Billy Packer from declaring that the Pac-10 had the toughest conference throughout the season (back when USC was up by double-digits).
No Travel on Jeff Green: Since I have Georgetown going to the championship game, I wasn't exactly up-in-arms over this, but I still noticed that Green took about fifteen steps before making the game-winning bank shot over about three different Vandy players. Lots of people were pissed about it, and CBS even led their post-game coverage with this issue. But now that Georgetown has moved on, nobody will remember the call — just like nobody's bringing up the blown Oden call against Xavier now that they're in the Elite 8. Of course Jeff Green is a Hoya, and teammates with Patrick Ewing Jr. whose father also went to Georgetown…and used to take ten steps across the key on-the-regular, so where else do you think he learned the move??

Oregon Benefiting from Luck of the Draw: Oregon crushed UNLV thanks to a ridiculous night from Tajuan Porter. But let's get real — commenter JohnRameySucks might not be happy to hear this — but Oregon got the serious luck of the draw. Miami of Ohio, Winthrop, and UNLV aren't exactly Indiana and Pitt. But hey, at least they took care of business.

Florida too good: Butler gave Florida a heck of a run for their money, but true talent (and Al Horford/Taurean Green) prevailed.
Here are what my crappy NCAA picks look like after the Sweet 16 (very ugly but three teams are still alive)

MIDWEST REGION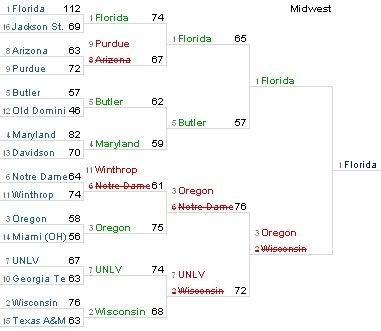 WEST REGION
EAST REGION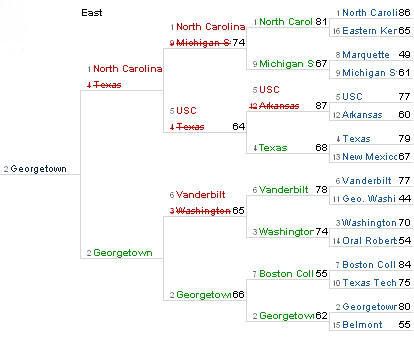 SOUTH REGION