Auburn Fans Aren't Too Happy With the Gene Chizik Hiring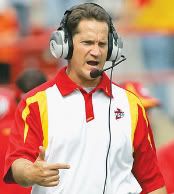 The first question I always ask when a team fires a coach is, "Who are they going to hire that's better than what they have?" It's the same reason I criticized Mississippi State's firing of Sylvester Croom — what good is it to hire Florida's offensive coordinator if he can't bring Tebow along with him to Starkville? And that's the same reason I thought it was a bad idea for Auburn to fire Tommy Tuberville. If you're Auburn, how can you possibly convince yourself and your fans that bringing in Gene Chizik — he of the 5-19 record with Iowa State the last two years — is better for your program than having Tuberville as the coach?
OK, so Chizik did some really good things when he was Tuberville's defensive coordinator at Auburn from '02-'04 (including the 13-0 season), but what was so special about the Texas defense he led the two years after that? If I remember correctly, it was the Vince Young-led offense that was so impressive, not the Longhorns defense. And then at Iowa State, going 3-9 and 2-10? How is that a sign of doing a good job? I'm just left here scratching my head, as apparently were many Auburn fans. Check out the greeting they gave athletic director Jay Jacobs when he returned from signing Chizik.
I really can't blame them.