Oklahoma Went 0-12, They Suck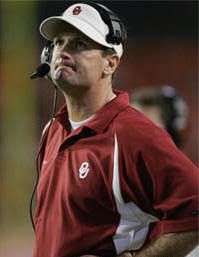 Hey, Rhett Bomar already transferred, isn't that enough? Apparently not, considering Oklahoma must have its wins from the 2005 season stricken from the record books. That's nothing. Useless. Pointless. Who will remember and care? Now that this has happened, their 8-4 record has been cemented permanently in my mind. And what exactly does it mean? As The Scores Report sarcastically points out, does that mean Oregon all of a sudden won the Holiday Bowl? Gimme a break.
Now, the important aspect of the penalties to take away, is that Oklahoma will be lose two scholarships for the next two recruiting classes. It might not sound like much, but don't let it fool you. Every scholarship counts. Also to be noted is that Bob Stoops' career record and winning percentage takes a big hit. That has to piss him off quite a bit. Stoops is now 78-19 instead of 86-19. Now that might make a difference in the history books down the road some.
Photo Courtesy Brian Bahr/Getty Images