Former Bronco Matt Lepsis Says He Played and Practiced While High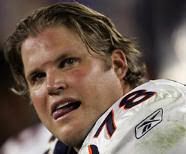 I've heard stories about former NFL players playing while high on coke. I guess the mad rush of energy made guys like LT fearless, but that's only stuff I've heard. Matt Lepsis never said what drugs he used, but it sounds like the former Broncos left tackle was smoking a lot of weed back when he played last year. From the Colorado Springs Gazette via Pro Football Talk:
"For the first six games of the year, I was high," Lepsis said of the 2007 season.
…
"The first thing I did when I woke up in the morning was get high, and I would try to stay that way all day long," said Lepsis, who won't say what drugs he used.

The NFL's annual substance-abuse test didn't uncover Lepsis' hidden addiction. He said he practiced about 10-15 times last year while under the influence before trying it in a game.

"I look back on it, and it was really foolish of me," Lepsis said. "There were definitely times when I wasn't even really there. I was physically there, but I was in another place mentally."
My immediate question is to ask how he was getting away with it considering the league's drug testing program. If he was beating the tests somehow, what does that say for the players who get busted? Additionally, as much as this seems disrespectful to the Broncos and the game of football, it actually turned out well for Denver. Because Lespsis retired the franchise used their first round draft pick on Ryan Clady who's been an excellent player in his rookie season. As for Lepsis, he found religion and that's why he stepped away from the game. Probably a wise decision.