David Beckham's Kiss Makes Girl Faint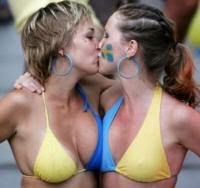 You can pretty much rely on me to keep this area Grammy-free. You and I both know why we all come here — and it's not for my CD reviews. Even still, I couldn't help but not pass this story up. For anyone who's seen groupies in action, this might not be much of a surprise, but it was for me, and it's kind of humorous regardless. From People, talking about Becks at a pre-Grammy party:
While Beckham played it cool with the party's hosts, it's safe to say he was heating things up among the women at the party. In fact, when one young female fan approached the soccer star and got a quick kiss on the cheek, she literally went weak in the knees – and fainted!

Beckham's reaction: "He looked like it was an ordinary everyday thing," an observer tells PEOPLE. "He just said 'Get her some water. She'll be ok.'"
Oh yeah, shrug, it happens all the time. Gotta be nice to have that sort of power where your kiss makes women faint. Wonder what the touch of his hands does to their clothes. I think I might have to add this to the list of desirable Superpowers.