Cromartie Wasn't Quite Mr. Popular in SD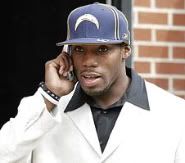 It just has not been Antonio Cromartie's week. The new Jets CB was roasted for struggling to name his children — all eight of them — but defended himself saying HBO's producers made him look bad. I'm not sure how Cromartie will defend himself against the latest criticism. In Thursday's Union Tribune via Rotoworld, Kevin Acee said that the Chargers secondary is much more united now that Cromartie is gone.
Things apparently are much more peaceful in the San Diego secondary and there is less drama. Additionally, as safety Eric Weddle noted, everyone is on the same page now. To clarify Weddle's comments, there are people on the team that are willing to tackle unlike Cromartie who was lambasted for going Deion in San Diego's playoff loss to the Jets.
If you read between the lines in the article, you can tell that many of the players wanted to point fingers in the past but didn't. All the drama off the field that distracted Cromartie the past two years certainly spilled onto the field and into the locker room and was not appreciated. He can only hope his fortunes are different in New York. At the least, the good news is he doesn't have to tackle Shonn Greene in games anymore. Just practice.
Sources:
Peace in Chargers secondary could bring prosperity [Union-Tribune]