Bill Cowher and Scott Pioli in KC in 2010?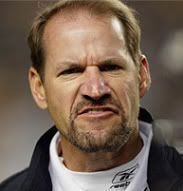 Bill Cowher made it clear to the Jets that he wasn't going to coach this coming season, so teams have proceeded in their hirings without considering him. Cowher's plan all along was to take two years off before deciding if he would return to the NFL. Well now that the Chiefs have wisely hired Scott Pioli as their new GM, Boomer Esiason is speculating that Cowher could join Pioli in KC in 2010:
CBS analyst Boomer Esiason said on his WFAN-NY radio show this week that he wouldn't be surprised if Chiefs general manager Scott Pioli hired Bill Cowher to coach the team in 2010. This is intriguing on any number of levels. For starters, Esiason works with Cowher and is familiar with his thinking. Then there is the matter of Esiason also saying that Cowher and Pioli are close friends. Also, Cowher served as the Chiefs' defensive coordinator from 1989 to 1991, so he is familiar with the city.
I know the players in KC like Herm Edwards and that Edwards has another year on his contract. Furthermore, Pioli supposedly likes and respects Herm, so there's a good possibility Edwards and his staff could be retained for the upcoming season. After that point, if Pioli brought in Bill Cowher, you could really be looking at a blockbuster front office. The only reason for me to think this wouldn't happen is that KC doesn't have a clear cut franchise quarterback. Jerome Bettis said in the past that Cowher wished he had a franchise QB in Pittsburgh and will look for a job where he'll have that. If Cowher does go there, I could see a Miami Dolphins-like turnaround happen pretty quickly, especially with all the draft picks they've stockpiled. This would be quite the combination.