The Falcons Are Going to Have a Scary-Good Offense This Season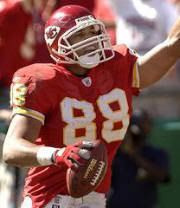 When the Saints acquired Jeremy Shockey last offseason I didn't like the move. Many people felt it was a great addition to their team and that it would give Drew Brees another weapon. Instead, I saw a guy who was coming off a broken leg and nowhere near worth the second and fifth-round picks they gave up for him. Furthermore, I felt that Brees already had tons of receiving weapons and that the TE really wasn't part of their offense. I was right on pretty much every account. Oh yeah, and the Saints would kill to have that second-rounder back on Saturday, believe me. Anyway, I bring this up because the Chiefs and Falcons had a very similar swap — a second-round pick for a Pro Bowl tight end. The difference is Tony Gonzalez is the fine wine of tight ends, improving with age. He's not coming off a major injury, and he's a billion times more reliable than Shockey (in every positive respect possible). Simply put, he's the perfect addition to the Falcons' offense.
The Falcons already had something special brewing last season — a rookie quarterback, Matt Ryan, playing with excellent poise and forming a good combo with emerging wide receiver, Roddy White. The line did a great job of run-blocking and made Michael Turner an MVP candidate. Now add a reliable and veteran tight end like Tony Gonzalez to the mix, a guy who works hard and just wants to win? It's over. While Atlanta could use some serious defensive help (a LB or two, a DT would be nice), there's no doubt in my mind that their offense will be scary-good next year. If I'm playing fantasy football I'm loading up on my Falcons.
Going back to Gonzo, if Buffalo had made the deal for him at the deadline last year (Tony killed the trade, ostensibly because he didn't feel Buffalo was a real contender), they would have just been wasting a draft pick on a guy that wouldn't have put them over the top. With Atlanta, this might very well make their offense good enough to win the NFC. Perfect trade by the Falcons. As for KC, that second might as well be a third given how well the Falcons will finish next season. I wonder how pissed Matt Cassel is right about now. So much for that 8-8 turnaround-season I was predicting.