Jake Delhomme Is now the Highest Paid Quarterback in the League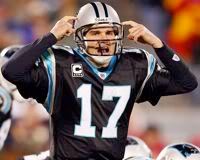 Even though Jake Delhomme said he was "blindsided" when the Panthers decided to release him, it wasn't surprising that Carolina decided they needed a new starting quarterback for the upcoming season. What surprised me was that they didn't keep Delhomme around as a backup considering he was still owed $12.65 million guaranteed from an extension he signed the prior offseason. Instead, the Panthers cut Delhomme loose, and Jake started looking around for a new gig — one where he could still start. Enter the Cleveland Browns.
The Browns decided to beef up their impressive haul of Seneca Wallace by agreeing to a two-year deal with Jake Delhomme on Saturday. Clearly Wallace and Delhomme will combine to form the most intimidating tag team of quarterbacks since Dan Orlovsky and Drew Stanton. The merits of debating Cleveland's past quarterbacks (Derek Anderson, Brady Quinn) versus this year's quarterbacks (Seneca Wallace, Jake Delhomme) is humorous but not intriguing. What catches my attention is that Delhomme reportedly will make $7 million — starter's money — in his first year with the Browns. Add that to the $12.65 million price tag he's scoring from Carolina, and Delhomme ends up pulling in $19.65 million this upcoming season, good enough to make him the highest-paid quarterback in the league. Attention Eli Manning: you've now been trumped.
Sources:
QB Jake Delhomme agrees to 2-year deal with Cleveland Browns [Cleveland Plain Dealer]