Justin Tuck Has Jeremy Shockey's Back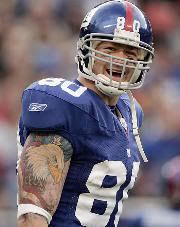 A big topic over the last month of the season that spilled into the offseason was the Giants and their relationship with tight end Jeremy Shockey. Shockey broke his leg in the third to last game, one which the Giants lost to the Redskins. The Giants then beat Buffalo without him, and put up 35 points in a three-point loss to the Patriots in the final week of the season without him. And what the Giants did in the playoffs — all without Shockey — you don't need me to refresh. So the talks began to stir up that Eli and the Giants were better off without Shockey, and there was a lot of speculation that Shockey resented the success his team had without him on the field. Well, regardless of what the media wants to drum up, Giants defensive end Jason Tuck, who was one of the best players in the Super Bowl, had Shockey's back in some comments made on The Monty Show on Sporting News Radio:
For me, he's a great teammate. [He's] a guy who loves to win and he loves to get the football — for good reasons. He's probably a top three, four, five tight end in this league right now. I think what happens is he's frustrated when we're losing and he lets it show, and I think people take it the wrong way. I haven't had anything negative to say about him ever, and won't because he's a great teammate. He's the type of person you love to have on your team and you hate to have him against you because he goes out there and plays 100% every play.
There you go, so can we close the book on this issue now? I hope so. As for Tuck's comments, true, Shockey can be one of the top few tight ends in the league. That doesn't necessarily mean the Giants are better off with him, however. Without him in there, Eli clearly had more confidence, and he also targeted Amani Toomer a lot more. So no, Kevin Boss is not a better player than Jeremy Shockey, but for the Giants, Boss was a better fit. End of story.