Is Steve McNair a Hall of Famer?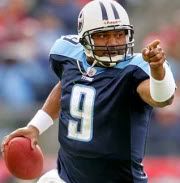 One of the more tragic, heart-sinking moments for me as a sports fan was seeing the news that Steve McNair died on July 4th after being shot in the head. McNair's a quarterback who took a while to develop in the league and that's why it took me a long time to appreciate him. He was one of the new dual-threat quarterbacks for the first part of his career but then he realized you can't last in the league very long if you keep tucking and running. While his amount of rushing attempts got cut in half, the amount of injuries doubled, and that's what made McNair stand out so much — he became tough.
I can't remember an injury that kept McNair out of a game. As a fantasy football guy, McNair developed a legendary reputation as someone who was so banged up that he could never practice during the week, but when it came to Sundays, you could always count on the quarterback from Alcorn State to make the start. McNair took the Titans to the Super Bowl in 2000, shared the MVP award with Peyton Manning in '03, and led the Ravens to a 13-3 season at the age of 33 in his second to last year. He had a really good career and was memorable for his toughness, but the tragedy of his death shouldn't change the way we view his career.
I've already heard people say McNair should be a Hall of Famer and I'm guessing a lot of it is due to their compromised sentiment. McNair was a winner and a very good quarterback for about a six year stretch or so, but he wasn't consistently one of the league's elites. I even heard an analyst today say he was better than Donovan McNabb — a quarterback to whom he was compared because they both were QBs who could run. McNabb's won more and he's been a top quarterback on a more consistent basis than McNair so I would completely dispute that notion. I don't think McNair's a Hall of Famer, but his reputation as a good quarterback who was one of the toughest mofos around will be his legacy. I'd say there's a lot of guys who'd love to have that claim.
Check out Steve McNair at his retirement news conference, one of his last appearances in the spotlight: