That Tom Brady … Damn Near Perfect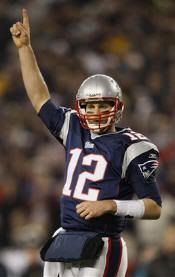 Just in case you were on a hot date Saturday night and missed the game, the Pats remained perfect on the year going to 17-0. Almost as impressive as their season record was Tom Brady's performance. The QB went 26 of 28 count 'em — only two incompletions — one of which was a dropped pass. He threw for three touchdowns, no interceptions and 262 yards. His favorite touchdown target during the regular season, Randy Moss, was held to only one catch for 14 yards. Much like they showed in weeks five and 12, you can take Randy Moss out of the ballgame, but the Patriots will still find a way to beat you.
I guess you have to give credit to Jacksonville for shutting Moss down the way they did. Several other teams throughout the year double-teamed him but even those squads still yielded at least a few catches and at least 30 yards. The Jags only allowed him one catch. So what does that say about Brady who had such a great day even with his best receiver taken out of the game? I'd say the guy is pretty dangerous and the Patriots have stockpiled some serious talent. We're talking about a divisional playoff game and Tom Brady was nearly perfect. I'm not saying that he made the perfect read each play, but the passes he did throw were almost always on the money. For that, Brady took home another record — best completion percentage by a quarterback in a playoff game. Not too shabby. And seriously, can a quarterback play much better than Brady has this year?
(Photo Courtesy Winslow Townson/AP)