Tom Coughlin's Vindication, Michael Strahan's Cementation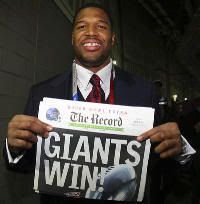 Much like everyone who's ever coached or played for a New York team, Tom Coughlin sure has taken his beating from the media. One popular criticism was that the coach should have been blown out after last season's horrible collapse that resulted in an 8-8 season. To refresh your memory, the team had been 6-2 and looked like the class of the NFC at the midway point. In 2005, the 11-5 Giants were blanked by the Panthers in the first round of the playoffs. In 2004, the Giants started out 5-2 and wound up 6-11, another terrible collapse. The proliferating thought was that Coughlin worked his team too hard early in the year and that's why they finished seasons poorly. I have another thought. Maybe Coughlin works his teams just fine. Maybe the Giants didn't do too well last year because their best player got hurt, not because Coughlin can't coach.
When Michael Strahan played last year, the team started the season 6-2. As soon as he got hurt, the team spiraled and lost six of seven. For a five week stretch, Osi Umenyiora was also injured. The Giants lost all three games neither man played, but won the two Strahan played that Osi didn't. The ultimate point is what I touched on earlier in the Eli Manning post: the Giants defensive line is the MVP of the Super Bowl. That is the heart and soul of the team. That's where the Super Bowl was won. That's what makes the Giants effective. That's what makes the Giants such a good team. Take Strahan (the all-time sack leader for an effing reason) away and they're not that good. Take both Osi and Strahan away, and they're a loser. Put those guys together and healthy, and they can disrupt the best offense in the history of football.
So this tells you coaches really are only as good as their players, and what I've felt all along, that Michael Strahan really is the MVP of the team. He draws the tough matchups, Osi gets double-teamed, and then Justin Tuck gets one-on-one matchups and makes plays. Simple as that. Strahan is the key to that team — don't get it twisted. And the Giants won because the defensive lined pressured the crap out of Brady, beat him up, sacked his ass, and only allowed 14 points.