Brian Billick Takes Subtle Shot at Kyle Boller When Discussing Tebow in the NFL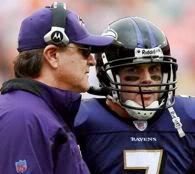 Count me as someone highly surprised to see Brian Billick as the color commentator for the Sugar Bowl on FOX alongside Thom Brennaman. I was equally surprised to hear Jon Gruden serving as the radio analyst alongside Mike Tirico for the Rose Bowl on ESPN Radio probably because we frequently separate college football from pro football. One of the positive aspects to having an NFL guy like Billick doing the commentary was we got to hear his opinion of how Tim Tebow would do as a pro. While Billick praised Tebow and his abilities, he cautioned against fans getting too carried away with Tim's success at college.
I don't have the exact quote so I'm paraphrasing, but Billick reminded fans that there's a difference between thinking a guy's a great player who's a winner that everyone wants on his team, and having enough confidence in the player to draft him in the first round and build around him. Billick reminded fans that if you want Tebow, you'll have to draft him in the first round, and if he doesn't work out, then you wind up calling bowl games on TV the next year. Billick was clearly speaking about his experience with the Ravens, implying that he got fired because Kyle Boller was a bust with the Ravens.
The Ravens took Boller in the first round, gave him the starting job, and he proceeded to play four mediocre seasons for Baltimore under Billick, throwing 36 touchdowns and 34 interceptions, never averaging more than 200 yards passing a game in a season. The Ravens were 30-34 under Billick with Boller as the team's leading passer and 13-3 in their one season with McNair as the starter. The point? Bad quarterbacks get you fired in the NFL. Like Billick cautioned, you better understand that if you draft Tim Tebow to play quarterback and he doesn't work out, you'll likely end up fired. All those fans who wanted you to draft Tebow will forget what they said once Tebow starts playing poorly — that's how it always works. I'm not condemning Tebow at the next level, just passing on some interesting commentary from the Sugar Bowl.