Could Michael Irvin Join Dan Patrick on Syndicated Radio?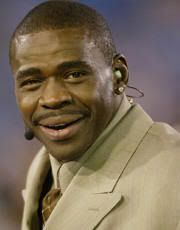 I've already touched on Dan Patrick's planned departure from ESPN Radio later this month. I've also speculated about his future and future replacement at ESPN. Now, Pro Football Talk is speculating that the great Michael Irvin could join Patrick on his new syndication venture. From their Rumor Mill which I banged:
An industry source tells us that former Cowboys receiver and ESPN commentator Michael Irvin, a brand-new member of the Pro Football Hall of Fame, is preparing a radio show that will be paired with Dan Patrick's new syndicated radio broadcast to be distributed by the Content Factory.

They apparently won't be on the same show; instead, it will be Patrick then Irvin, or vice-versa.

We've not yet confirmed this tip, but we've got no reason at all to doubt it.
I don't have much reason to doubt the rumor either. For one, Ben Maller mentioned last week that Irvin expressed interest in hosting a show for 790 The Ticket in Miami. Secondly, Irvin used to be a guest on Patrick's radio show on ESPN, until Irvin went off the racial deep board. Clearly the pair have a relationship. So I guess that means this could be possible. One problem, I highly doubt that Irvin could carry a show solo — I'm guessing he'd need a co-host.
UPDATE: Sources have told me Irvin may try out radio, but it might not be with Patrick's new company. Check back for further updates …