Baseball Players Are Meant to Be Fat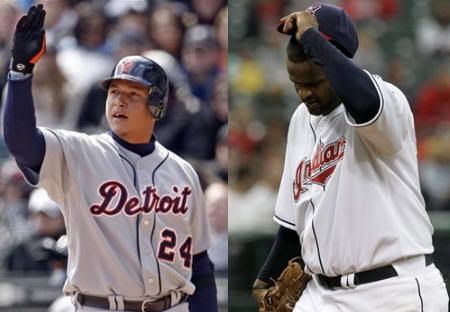 There's one thing about the media and their treatment of certain baseball players that's irked me lately: their absurd treatment of overweight (read: fat) baseball players. Not to say that you should be a fat ass and play baseball, but I just can't stand the way the media handles baseball players and their body weight. Ever notice how weight issues are only brought up when that player struggles? Oh, Miguel Cabrera off to a slow start, he's too overweight. Andruw Jones is only hitting a buck fifty, it's because he's too fat. Bartolo Colon needs to get in shape if he wants to make the Red Sox' roster. Prince Fielder isn't hitting for power because he's not eating enough (a topic on PTI Wednesday). Guaranteed you'll hear something on Thursday about C.C. Sabathia struggling because he's too overweight.
Well I have a major complaint about this type of thinking: the media needs to be more freaking consistent. Find something to pick on other than weight. Why is it that no complaints are made about these players' weights when they're kicking ass while fat? Why does the criticism only come when they start to perform poorly while maintaining the same out-of-shape body? Bartolo Colon was a blimp when he won his 2005 Cy Young. Don't tell me otherwise. Andruw Jones was portly when he blasted 51 and 41 in back-to-back seasons. Miguel Cabrera ballooned last year but still had his typical stellar season. Matter of fact, "fat Miggy" set career highs for home runs and RBI. Prince Fielder might not be hitting because we're only two weeks into an seven month season and because 50 home runs is not easy to duplicate.
If you're going to tell me that David Wells didn't reach his potential because he didn't dedicate himself to the game and stayed out-of-shape, I'll accept it. But don't tell me that players who were successful while fat aren't succeeding because they're still just as fat. Now that doesn't make sense. Find something else to pick on instead, like Bartolo's rotator cuff being partially torn, Andruw habit of pulling outside pitches, and C.C. leaving his fast ball up in the zone too often. But don't tell me it's because they're fat.