Dude Sues White Sox for Getting Injured in T-Shirt Giveaway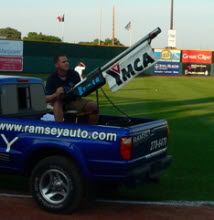 File this story under the header for "Money grabs." Many teams will have giveaways where they launch stuff into the crowd, creating a frenzy as people who just dropped $50 for a ticket, parking, and food, all scramble for a $5 shirt. It makes a lot of sense when you think about it. Anyway, one particular White Sox fan says he was injured from one of these giveaways and is suing the team:
David Babusiak's lawsuit says he suffered a severe back injury after T-shirts were fired into the crowd at a game in 2007. He claims shooting T-shirt projectiles was an "abnormally dangerous activity," especially when some fans may have been drunk.
…
Babusiak of St. John, Ind., filed the suit Thursday in federal court in Hammond. It seeks $75,000 in damages.
Sure, I'll admit that the shirt cannon shooting creates a frenzy for a minute, but so does a foul ball or home run ball hit into the crowd. Don't they have disclaimers on the tickets saying the team isn't responsible for injuries that happen at the game? Even after this guy got hurt I can't imagine it's 75 grand worth. Can't people find better ways of making money?
(via Fark)