Mike Cameron Says He's Played Drunk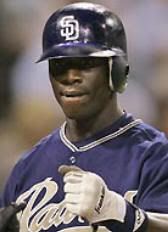 Yesterday I posted the news at FanHouse that Mike Cameron had been suspended 25 games for testing positive for a banned stimulant. In an interview with Double X Sports Radio in San Diego, Cameron insisted he wasn't taking steroids. According to Todd Gallagher, author of the book, Andy Roddick Beat Me with a Frying Pan, Cameron might have tested positive for a different sort of substance. From pp 101-102 of the book:
Almost every current major leaguer I spoke to knew of players who had stepped on the field under the influence. When asked what the signs were, the players typically responded the way Giant Ryan Klesko and Padre Jake Peavy did: 'I just knew.' Interestingly, another Padre, center fielder Mike Cameron, had a more intimate experience with game-day tipsiness:

" 'Shit, I've played drunk.'

"When?

" 'New York City.'

"What were the circumstances?

" 'I went four for four with two jacks and eight ribbies. I'm not saying that's the only day I played drunk, but that was the best one.'
Wow, and that's apparently Mike Cameron talking. One small little tiny detail here: I think Cameron is getting "drunk" confused with a hangover. Follow me? I could go around bragging that I aced midterms at UCLA while drunk but that would be a lie; I aced them hungover! Sure the story sounds great, but I think Cam is just embellishing. Sad thing is, when you go 4-for-4 with 8 ribbies, the accomplishment should be able to stand alone. Oh well.
(Also see Matt Watson at FanHouse)