President Obama Rips Cubs During Yankees World Series Visit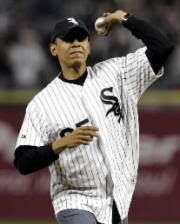 A visit to the White House is special for any winning team that gets invited. For the New York Yankees however, their visit celebrating their 2009 World Series title became less about them and more about another city — Chicago. President Barack Obama has made it quite clear in the past that he loves the White Sox, even though he had a hard time naming any of their players. The best part about the Yankees' visit Monday was not what Obama had to say about his beloved Sox, but instead his comments about the Cubs:
"It's been nine years since your last title — which must have felt like eternity for Yankee fans. I think other teams would be just fine with a spell like that. The Cubs, for example."
Way to slip in a jab at the Cubs, Mr. President. It does help mask the pain of a disappointing White Sox season by making fun of the team that is doing slightly better than them (Cubs are 10-10, White Sox are 8-11). This isn't the first time Obama has made a jab at the Cubs, and I'm certain it won't be the last.
I think the Yankees may have gotten the last laugh on this one though.  After Yankees manager Joe Girardi brought the World Series trophy over to Obama for a photo opp, a member of the Yankees organization said to Obama that it might be the only chance he gets to hold the trophy. Ouch, would you like a little ice for that burn? As much as it pains me to say it, Obama probably won't be holding a World Series trophy with the boys in black and white anytime soon.
Sources:
Obama hosts Yankees at White House [ESPN New York]