Brent Barry Misses Spurs Game With Tummy Ache
Yes, true story … if you believe Yahoo! Sports which sure seems to have a proclivity for making fun of Spurs players when they miss games, and screw up boxscores on a regular basis.  But this latest jack up seems completely uncalled for.  Matter of fact, how the heck did the Yahoo! scorer even come up with it?  Was he in the locker room for Barry's pregame meal?  Somebody get Barry a 7up or something.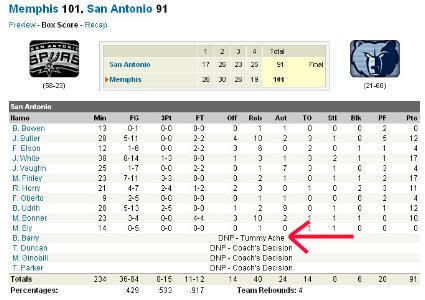 Here's a closer look:

The Spurs lost the meaningless contest to the Grizzlies, not that you cared.
Previous Yahoo! Sports screw ups:
Nick Swisher is Better Than the Entire Oakland Team
Damn, Those Oilers Are Good at Hockey
Yahoo! – Yes, Robert Horry is damn old! [az Sports Hub]