I Would Take Kevin Durant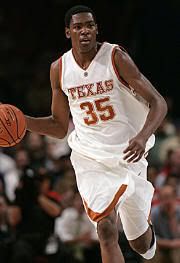 Not that I'm a basketball GM or anything, so it doesn't really matter but for purposes of debate. And I have already proclaimed that Portland would take Oden, so it doesn't really make a difference either. But I had an epiphany last night. A little basketball fairy shined down upon me and said the answer was Kevin Durant. This is something I know.
Sure, it's easier to take Greg Oden. He seems like the safer pick. Take the big, build around him. He can step into the league and dominate, become a 20/10 guy, no problem. Once you have your center, you're set for the next 10-15 years. Just get a good point guard, a few guys who can shoot, and boom, the game opens up for you. It's easier to build around Oden. But I'll be darned if I don't think Kevin Durant is the special player in this draft.
Durant can do things that no other player can. Sure, he lost in the tourney early — his team went down in the second round. Kevin Durant though, was a beast. The team around him wasn't very good, yet he took them to new levels. He won games with his rebounding, his shooting, his driving. He scored and made plays in almost every way you could imagine. Durant played defense like he was Shawn Marion, and scored and rebounded like he was Kevin Garnett. He may be smaller and skinnier than Greg Oden, but that didn't stop him from pulling down double-digit boards on the regular.
It might seem weird because the easy starting point is a big man — a true center — a Greg Oden. But if you ask me, Kevin Durant is the pick. He's a special, special talent. He can do things that nobody else in the draft can do (perhaps 30/10 a game). And by golly, I'd want him on my team more than anyone else.