Ranking the 20 best players in the NBA's Western Conference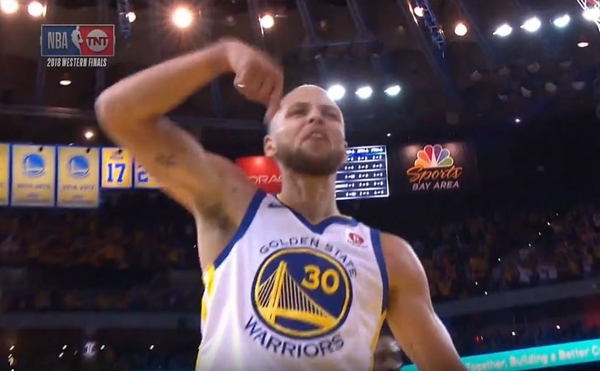 It won't come as news to anyone that the NBA's Western Conference is loaded.
LeBron James' decision to join the Los Angeles Lakers puts the topper on the most loaded conference in basketball. Beyond James, you have a Golden State Warriors team that will eventually be able to start five All-Stars if they choose to do so. That doesn't even encompass a number of other superstars playing out West either. We're already excited for the playoffs.
Who are the 20 best players in the Western Conference? Here's our list.
20) Donovan Mitchell, Jazz
It may seem premature, but Mitchell is on here as much for what he could be as soon as next season. Mitchell walked into the NBA from Louisville and became one of the major reasons Utah had such a successful season, averaging upwards of 20 points per game. With a year of experience and the motivation from a feud under his belt, there's no reason to believe he won't get even better going forward. Did you see how well he performed in the playoffs? That's just a taste of what's to come.
19) Clint Capela, Rockets
A restricted free agent for Houston, Capela's development has been a very big factor in the team's rise last season. He was extremely efficient, leading the league in field goal percentage. He averaged a double-double. He grabbed nearly 11 rebounds per game, putting him in double-digits for the very first time. He's also very good at setting screens. Perhaps the system in Houston makes him better and more important than he would be elsewhere, but he deserves some credit — he fulfills his role and he does it well.
18) Rudy Gobert, Jazz
Gobert would have been higher on this list a year ago, but his defense alone ensures that he remains one of the NBA's most valuable big men. He still grabs a lot of rebounds, gets a lot of blocks, and provides top-notch rim protection. His offense slid last season, hindering his value some, but whether that's just noise or the sign of his real ceiling remains to be seen. No matter how you slice it, he's still a serious defensive force.
17) LaMarcus Aldridge, Spurs
Kawhi Leonard's extended absence wasn't really good for anyone on the Spurs, but it seemed to benefit Aldridge, who posted his best numbers since leaving Portland. After a few substandard years when he wasn't San Antonio's focal point, he was back to 23 points per game and providing solid defense. He shouldn't be forgotten in the discussion of the NBA's best big men.
16) Klay Thompson, Warriors
Thompson still manages to get plenty of shots on a loaded Golden State squad, and he shot a career-best 44 percent from three-point range despite battling late-season injuries. He remains a good on-ball defender as well. Calling him a three-and-D player isn't giving him enough credit; he's one of the game's elite shooters, and he fits what Golden State does perfectly. It may turn out that he's a player whose importance won't be understood until he's gone, not that anyone's expecting him to leave anyway.
15) Nikola Jokic, Nuggets
Jokic took a tiny step back this season, but that had more to do with the heights he hit in 2016-17 than anything he did this season, injuries aside. He remains an offensive juggernaut, a big man who can pass like a guard and score in the post. Those don't come along often, and his defense has improved so that he's no longer a huge liability. That's enough to make him exceptionally valuable.
14) Damian Lillard, Blazers
Lillard continues to toil away on a Blazers team that doesn't ever seen to get any better, but it's certainly not his fault. He remained great in all categories last season, averaging 27 points per game. His three-point shooting regressed a bit, but not significantly, and his defense was better. He's a complete player somewhat overlooked due to his presence on one of the West's lesser contenders. Will he want out of Portland before long?
13) DeMarcus Cousins, Warriors
It's fair to say that Cousins is a huge question mark at this point. First, when will he return, and how effective will he be once he does? Plenty of players have never quite been the same after a torn Achilles, and how it impacts Cousins remains to be seen. Even if he can replicate his pre-injury form, his usage will be impacted thanks to the talent around him, and it remains to be seen how Steve Kerr will deploy him. That said, few players in the NBA have more talent, and that alone keeps him ranked highly.
12) Karl-Anthony Towns, Timberwolves
Towns' skillset is unmatched. You're not going to find many seven-footers who have a mixture of power and finesse, the ability to play in the paint while also knocking down the occasional three-pointer. He has the potential to be one of the best players in the game once he matures — perhaps even the best. Even though he's not there yet, he's averaging 21 points and 12 boards a game at the age of 22. He's going to be a joy to watch for years to come.
11) Paul George, Thunder
George had to make some sacrifices playing next to Russell Westbrook, and those will continue for the foreseeable future. He's still a top-level defender and a 40 percent three-point shooter, and his scoring didn't even suffer that much in his first season with the Thunder. Don't underestimate the importance of Oklahoma City retaining him — he's one of the league's 15 best players in pretty much every circumstance.