Tim Donaghy's Bookies Were Only Mob Wanna-bes, So We're Told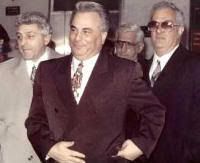 Boo, Boo!!! Disappointment!!! That's what the New York Daily News is reporting, leaving me quite saddened here. Actually, that's really good news for the NBA, you know, that the Gambino family might not have been involved as was originally suspected. But who knows at this point. From the Daily News report:
Two catholic high school chums of disgraced referee Tim Donaghy have been identified as the bookies in a gambling scandal rocking the NBA, the Daily News has learned.

But the two bet-takers apparently exaggerated their Mafia connections. "They're nobodies," a law enforcement source said.

The mob wanna-bes attended Cardinal O'Hara High School in Springfield, Pa., with Donaghy, who was a varsity standout on the school's basketball and baseball teams.
Hah, sounds just like a couple of wanna-bes who were trying to make a name for themselves. Or, are they just changing their stories to try and protect others? This is a tough call, but lets hope for the League's sake that these guys were indeed nobodies. I think that would certainly help David Stern breathe easier.
More on Tim Donaghy:
Uh Oh, Did an NBA Ref Bet on Games?