Memphis Gets Back at Calipari by Hiring His Top Assistant, Josh Pastner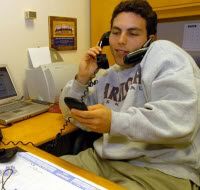 Memphis didn't exactly get its first choice when they were trying to hire a replacement for John Calipari who left for Kentucky. First of all, the program rounded up all the boosters to come up with a monster salary package to try and get Calipari to stay. When he spurned them, they went after Bruce Pearl, supposedly offering him a seven-year $21 million contract. Pearl decided to sign an extension with Tennessee instead. Then, in what seemed like a surprise move, Memphis announced they had hired Josh Pastner as their new coach. This is the same Pastner who backed up Mike Bibby at Arizona after walking onto the team, getting exposure on the bench with the '97 title squad. The same Pastner who was later an assistant on Olson's staff, just a year after finishing his playing career. The same Pastner who's ascension took him to Memphis to work under Calipari this past year.
I was trying to make sense of this move considering Memphis pays well enough and has enjoyed enough recent success to make it a desirable job. Then when I thought about it I came up with three reasons to explain the move. First of all, Pastner was going to be John Calipari's top recruiting assistant at Kentucky — hiring him hurts Calipari and helps Memphis get even. Secondly, Memphis was already losing recruits who had committed to them while Cal was the coach. Maybe hiring Pastner will give those recruits incentive to play for the guy who recruited them the most. Lastly, maybe they feel Pastner is a young up-and-coming coach who's worth taking a chance on regardless of his lack of head coaching experience.
I like the move by Memphis — it certainly displayed outside-the-box thinking. It also makes me wonder why Arizona didn't bring him back home. Was Sean Miller really worth $2 million per season to recruit an area with which he's unfamiliar when Pastner could have represented the school well at half the price? Arizona dropped the ball here. And where's Billy Gillispie's name for all these jobs? Just because Kentucky canned him doesn't mean he's not a good coach anymore.