Tom Izzo and Roy Williams Are Two of the Best, Deserve National Titles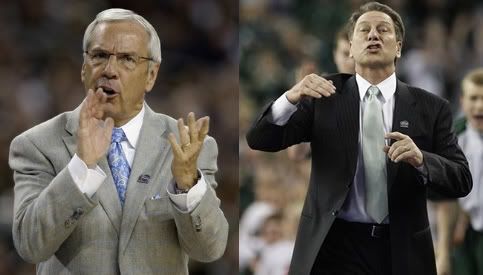 There are times when teams are getting set to play for a title and I have no rooting interest. Often times I'll choose to root against the team I like the least. I've had to do that in the past few Super Bowls that the Steelers won because I have loyalties to the Bengals. When the Spartans and Tarheels meet with a title on the line Monday night, I'm pleased to say that I'll be satisfied with either outcome. If forced to choose, there's no doubt that I'm pulling for Michigan State. I'd love for the state to have the win during a terrible time for its economy. Moreover, I'd love to see the best coach in America, Tom Izzo, pull off another shocker.
Every time you think Michigan State doesn't have it or that they'll get bounced from the tournament, they win. Every time you say the Spartans are over-matched, they win. Taking on what appeared to be a more talented UConn team, Michigan State employed a running strategy, trying to move the ball down the court as soon as a shot was either made or missed. Izzo figured they had depth and that's why he wanted to run, and it turned out to be the perfect strategy. Vegas and everyone else likes the Tarheels to win the game by a comfortable margin. Maybe we'll all be shown one more time why you can't underestimate an Izzo-coached team in a big game.
Ever since leaving Kansas for Carolina, Roy Williams took the Tarheels back to the top of the college ranks. UNC had fallen off tremendously under Matt Doherty, going 8-20 and 19-16 in back-to-back years. When Williams took over, he only needed one season before he turned the program back to a national championship-level. After that title team got raided for talent (Williams lost his top seven scorers), the Heels fell off and went 23-8, but still finished 2nd in the ACC. Since then, Roy has done nothing but reload, proving that North Carolina is back to being the premier national power in the country. They've gone 31-7, 36-3, and 33-4 with back-to-back Final Four appearances and a shot at a second national title for Williams. It's also no coincidence that Carolina's return to prominence coincides with Duke's drop-off amongst the nation's elite.
These are two powerhouse programs even if Michigan State hasn't been considered to be on the same level historically as North Carolina. These are two of the best coaches in the game and it's not an accident that both teams made it this far. Knowing that we're seeing some of the best in the business square off gives me the peace of mind to be happy with the champion, whoever comes out on top. Here's to Michigan State — it would be great to see them pull it off!