Jamere Holland's Facebook Profile Comments Get Him in Trouble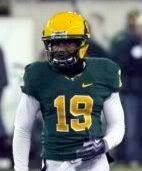 Oregon is having an offseason that might put Urban Meyer's Gators to shame. Since dropping the Rose Bowl, the Ducks have seen over five of their players involved in off-field incidents. In order: running back LaMichael James was arrested for assault, strangulation, and harassment. Kicker Rob Beard was investigated for misdemeanor assault for his role in a street fight that defensive end Matt Simms was investigated for as well. As if that wasn't enough, fellow kicker Mike Bowlin left the team after his alleged involvement in the same incident. Prior to that, quarterback Jeremiah Masoli and wide receiver Garrett Embry were named as suspects in an alleged theft of laptops. Embry was kicked off the team shortly thereafter. That's not all. On Friday night/Saturday morning, linebacker Kiko Alonso was picked up for DUI. Teammate Jamere Holland mistakenly thought that meant Kiko was kicked off the team and he produced this rant on his Facebook profile (warning: extremely graphic language):
The next morning, Holland wrote something that may have been as dumb as his first comment:
After reading those two comments attempting to read those comments, it's quite fitting to hear that Holland was academically ineligible for the Rose Bowl. And wouldn't you believe, Holland has now been kicked off the team while Kiko supposedly is still on it. Wow. Score another victory for facebook and its role in screwing up an athlete's collegiate career. Then again this must be attributed to pilot error, like usual. In case it hasn't already been mentioned, what the heck is Chip Kelly doing up there?