Tennessee Fan Trying to Name Lane Kiffin Sewage Center in Knoxville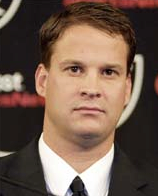 We already knew that Tennessee fans did not take Lane Kiffin's impromptu exit from Knoxville too easily but we figured they were over it once the riots settled. While there's plenty of scrutiny to go around now that Derek Dooley's been hired, some Vols fans are still uneasy about Lane's exit and one in particular is trying to exact his revenge. As LBS contributor Botros shared with us, Tennessee fan Drew McElroy is getting creative:
Knoxville attorney Drew McElroy has filed paperwork with the Knoxville City Council's Public Properties and Facilities Naming Committee to rename a waste water treatment plant the "Lane Kiffin Sewage Center."

"It dawned on me–Lane Kiffin told us that he hoped the fans would understand. I thought 'Well, naming the wastewater plant for him would let him know, I think very clearly, we do understand,'" McElroy, an off-and-on season ticket holder said. "We want to memorialize his stay here, and I think this would be doing it appropriately."
Ouch. I'm hoping this story will break through Lane's shield of selfishness and embarrass a slight amount of integrity and loyalty into his body. Or not. Kiffin now has his dream job so who cares about anything else, right? In his misguided thinking he probably figures it's just sour grapes from a scorned fan base. I hope the name gets approved.