Roethlisberger Deserves Being Made Fun of in New Eminem Song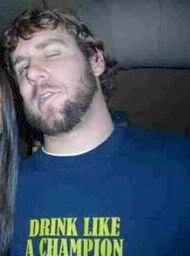 By now, I'm sure you have heard about Pittsburgh Steelers quarterback Ben Roethlisberger and his little incident with a college co-ed down in Georgia. Well now thanks to the internet and its ability to upload songs in seconds, rapper Eminem has immortalized Big Ben in his latest song — and it's not in a good way.  This clip of the song is quickly turning viral, and in case you haven't heard it yet here's what Eminem has to say:
"I'd rather turn this club into a bar room brawl/ Get as rowdy as Roethlisberger in a bathroom stall.
Was it wrong of me to laugh the first time I heard this? I wasn't laughing because of what happened to that poor girl, I was laughing because Roethlisberger more than likely paid her off to not pursue the charges thinking that this would all blow over. Not this time pal. Years from now people will be listening to their MP3 player and Eminem's song will come on to remind us what a scumbag he is. I really hope that the six-game suspension sticks and we don't see Big Ben back on the field before then.
Eminem isn't the first rapper to poke fun at an athlete for their "indiscretions." Ludacris did it just a couple months ago when he poked fun at Tiger Woods in his song called "Sexting." Roethlisberger deserved this one and I feel like this is just the beginning of the jokes directed at him. I say keep it coming with those jokes to remind people like Roethlisberger that they can't just write a big check and make their issues go away.
Sources:
Eminem gets lyrical with Ben Roethlisberger [USA Today]