Chad Johnson Is Not the Problem in Cincy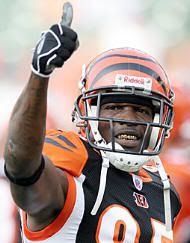 I'm sick and tired of people questioning Chad Johnson. I'm sick and tired of people making an issue out of Ocho Cinco. I'm sick and tired of people saying he's a cancer who needs to go. Chad Johnson is one of only three good things the Bengals have going for them — Carson Palmer and TJ Houshmandzadeh being the others. Chad Johnson is one of the top receivers in the game — has been for the last six years. He plays hard, he plays to win, and he works his butt off. Outside of his endzone celebrations, he's the model citizen. He's exactly what the Bengals should want on their team, not what they should want to get rid of, or be pushing out the door making him want to leave. When I ranked the Bengals arrests, was Chad Johnson on the list? Didn't think so. The only list you'll see Ocho Cinco on is the one for Top 10 receiving yards, catches, and TDs in the NFL. He's done everything you could ask of a player. He's a second round pick who's developed into a star. So why is everyone portraying him as the problem?
Chad Johnson has become the scapegoat for all that is wrong in Cincinnati, unfortunately. He's been horribly miscast by the media, being classified in the same problem child group reserved for the T.O.'s and DeAngelo Hall's. But there are fundamental differences between Ocho Cinco and all these other bad seeds. Chad Johnson shows up at voluntary camps to improve and work with his teammates (up until this one). Chad Johnson camps out at the practice facility overnight so he can get every last minute of his preparations and workouts in. Chad Johnson loves his fellow receivers and is just as happy, if not happier, when they do well. Chad Johnson loves to win and only wants to win. Right now he's upset with the organization because he feels like he's one of the only people their passionate about winning. That's what he cares about. That's why he works his butt off — to win and go back to the playoffs. He tasted glory a few years ago when the Bengals had a solid team in '05 and lost to the eventual champion Steelers.
Since '05 however, the Bengals have done nothing but revert to their old, horrendous, embarrassing form of the 90s. Remember what the Bengals were like before Chad, Carson, and TJ rescued them? That's what they're becoming. And it's not because of Chad Johnson — far from it. It's because the Bengals have a head coach who lets his players get away with anything. It's because the Bengals front office tried taking shortcuts by drafting bad character dudes and got burned by it. It's because half their key players were suspended for dumb infractions. It's because plenty of free agents have signed with teams, and not many have signed with Cincy. It's because their front office and coaching staff isn't building the team properly — that's why Chad Johnson is unhappy.
You have a dedicated and talented player on your team and you're alienating him, making him out to be the bad guy. It sickens me that with all the arrests and suspensions the Bengals have had, which made the team significantly worse the last two years, it's the dude who hasn't done anything wrong that gets cast as the bad guy and gets blamed for their problems. Now you see why Chad wants out. I hope for his sake he does, because the way the front office runs that team, he's not going to be pleased for a long time, and neither will the fans.