Champ Bailey Puts Rivers in His Place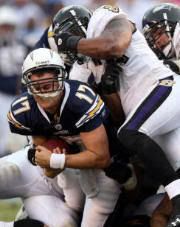 I totally whiffed on this story from the weekend, probably because I missed all the games and highlights. Philip Rivers was caught on camera jarring with Jay Cutler late in the 4th quarter of San Diego's easy win over Denver. Just like Signal to Noise wrote, Rivers has no place to be talking trash in a game. Sure, if it gives you an edge as a player, more power to you, but we all know that Rivers is not one of the top players in the league and hasn't earned the right to talk smack. Funny enough, that's exactly how All-Pro CB Champ Bailey feels:
"And I don't really care for the guy, first of all," Bailey said of Rivers. "He's not a respectable guy right now because you talk too much trash and do this and that, but you're really not a great player in this league right now.

"You're surrounded by great players, but you're not a great player. I think he needs to understand where he stands in this league – where he stands on his team first and foremost."
Couldn't have said it better myself. Didn't we go through something quite similar when an unknown from the Steelers guaranteed victory against the Pats? The parallel isn't that Rivers is an unknown, rather, that Rivers should know his place in the league. Take away Gates and LT and we'll see how well Rivers compares to Cutler as a QB.