Chris Henry Is My Hero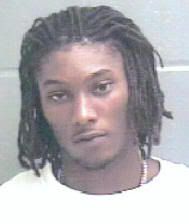 Not long ago, I mocked the Bengals by ranking their multiple arrests by severity of offense. Not only did my girl man Chris Henry top the list, but he also placed 2nd, 8th, and 12th, blowing away the competition. And just as I was plotting a post welcoming Henry back to the Bengals this weekend (he had completed his eight game suspension by the NFL), he goes out and does the unthinkable. Well, I guess unthinkable if he were anyone other than Chris Henry. At this point, it's kinda surprising that he went this long between offenses. Check out the latest alleged Henry incident:
A valet parking attendant at Newport on the Levee allegedly got into a confrontation with Bengals wide receiver Chris Henry and another man over a $5 parking charge Tuesday.
…
According to the incident report, the valet parking attendant approached Henry and Desious Dyneal Alston, 24, after they parked a Land Rover without paying and started walking away Tuesday. The valet, according to the incident report, said Henry started arguing with him about parking when [Jason C.] Baker approached and tried to resolve the argument.

According to the incident report, Baker told police that Henry came up to him and, chest to chest, said, "(Expletive) you. (Expletive) this. Don't you know who I am?" before throwing a $5 bill on the ground and saying, "You better pick that up (expletive)."
Wow, leave it to Chris Henry to go to the "Don't you know who I am" card. Somehow I don't think that's the card you want to be pulling out of the community chest when you're Chris Henry. Still, he has to be awarded bonus points for equal parts courage and stupidity. Chris Henry — you are my hero.