DeAngelo Hall got Hurt Cheering for His Team on the Sidelines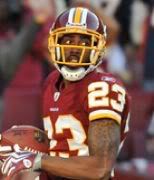 Professional athletes are some of the most finely-tuned, muscular, and fittest human beings on the planet. Football players are even tougher than most athletes considering the strenuous and physically demanding nature of their sport. That's why it's surprising, and almost laughable, to read about DeAngelo Hall's latest injury. Hall missed his second straight game last week because of a sprained knee. He's already been listed as "out" for Sunday's game against Oakland but now there's a new injury bothering him:
Hall got so excited standing on the sidelines during the Washington Redskins' overtime loss to the New Orleans Saints on Sunday that he developed back spasms, another setback in his goal of returning to the field in time to play in this week's game against the Oakland Raiders.

"I probably should have been up in the suites relaxing, but I wanted to be down there with my teammates and encourage my guys on," said Hall, who had a sit in a chair to ease the strain on his back while meeting with reporters this week. "I found myself almost jumping up and down every play."
I'm guessing all the jumping up and down didn't help the strained knee either. I'm not doubting the legitimacy of the injury, I'm just having a laugh over the circumstances through which he incurred the problem. If it weren't such a business, I'm sure he would too. Considering the Redskins won't have Hall or Haynesworth on Sunday, the Raiders will have a legitimate shot at winning the game. Matter of conjecture, Bruce Gradkowski could be a solid fantasy football option at quarterback; he's thrown for six touchdowns in the last three games. Luckily I don't have to worry about Gradkowski since I have Tony Romo going as my QB in the Coors Light fantasy football league, but if I needed an alternate option, I might consider Bruce.