Dolphins GM Jeff Ireland Went too Far With Prostitute Question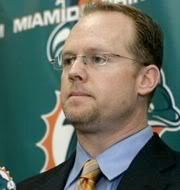 It isn't out of the ordinary for NFL teams to sit town with perspective draft picks to get to know them better. But for the Miami Dolphins' GM Jeff Ireland, he went a little too far with his questions. Prior to the draft, Ireland sat down with Dez Bryant, a wide receiver out of Oklahoma State, and began asking very personal questions about his mother. Ireland asked Bryant whether his mother was a prostitute and whether she was still doing drugs. Excuse me? Bryant handled the situation really well:
"No, my mom is not a prostitute. I got mad — really mad — but I didn't show it. I got a lot of questions like that: Does she still do drugs? I sat and answered all of them."
Please tell me what that has to do with how this kid plays football. Not only is that question just plain rude, but it's also none of his business. Ireland tried to justify this by saying that it's his job "to find out as much information as possible about a player that [he's] considering drafting." I disagree. You look at the talent this kid has on the field and the way he presents himself. His personal family background should have nothing to do with what you are looking at.
At the end of the day, I think Bryant is the one who benefits from Ireland's poor judgment. He is receiving sympathetic media coverage because of this situation, and he was also the Dallas Cowboys' first round draft pick. Just a hint of advice Mr. Ireland — don't ever say anything bad about anyone's mama.
Sources:
Bryant: 'There's nothing diva about me' [Yahoo! Sports]
Dolphins GM apologizes for question to Dez Bryant [AP/Yahoo! Sports]