Jim Brown on Johnny Manziel: 'I'm an ex-player, we used to party'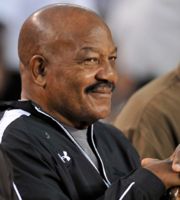 Cleveland Browns legend Jim Brown is a fan of Johnny Manziel. On Friday, Brown spoke about his appreciation for Manziel's winning ways. The 78-year-old also admitted that he can relate to the whole partying thing.
"I like Johnny, you know, I like his type," Brown said during an interview with ESPN Cleveland's The Really Big Show on Friday. "Johnny is a champion, Johnny won games in college. He won the Heisman Trophy as a freshman, didn't he? … That's pretty bold. Not bad. You got to have something going on to do that.
"You've got to remember, I'm an ex-player. We used to party. Let's get real, man, we chase girls."
Brown noted that he does not condone drug and alcohol abuse, but it was clear that he can relate to Manziel on some level. I doubt Brown would have been caught rolling up a $20 bill in front of a sink even if there were camera phones in his day, but we get the point.
A lot of people feel the same way Brown does about Manziel's party boy antics. The ironic thing is that Brown hinted last summer that he thought some of the Browns players were partying too much, which was leading to a lack of commitment on the field. Plus, Manziel and some other rookies were fined for being late to a team meeting earlier this week.
For the most part, I agree with Brown. Kids in their 20s party and there's no need to overreact. On the other hand, there have been situations where Manziel hasn't used his best judgment. He's constantly under a microscope. Learning to adjust to that wouldn't hurt.