Josh Norman says Taylor Lewan's 'ultimate disrespect' sparked confrontation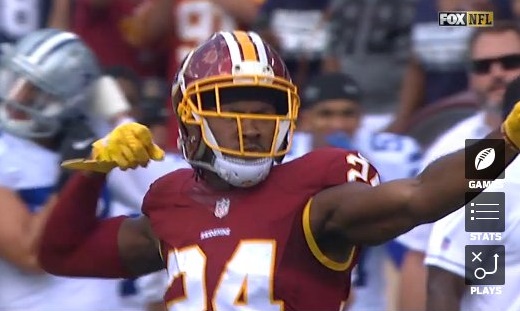 Josh Norman is still fuming several days after his incident with Taylor Lewan.
The Redskins cornerback was involved in a confrontation with the Titans offensive lineman following Tennessee's 25-16 victory over Washington on Saturday. Lewan went up to the Redskins sideline after the game went final and mocked Norman's famous bow-and-arrow celebration, leading to Norman getting up in his face.
Things got HEATED between Josh Norman and Taylor Lewan postgame. pic.twitter.com/HXCE6zRSzj

— NBC Sports Redskins (@NBCSRedskins) December 23, 2018
Addressing reporters Wednesday, Norman elaborated further on the skirmish.
"Maximum disrespect," said Norman of Lewan's actions, per Les Carpenter of the Washington Post. "Ultimate disrespect.
"I don't care how big you are. You can be a giant; it's kill or be killed," the former All-Pro continued. "That's how I look at it, how I see it. The guy had a whole foot and 135 pounds on me; what does that matter?"
As for what started the bad blood between the two players, Lewan claimed that Norman had tried to injure Titans running back Derrick Henry late in the game, something that Norman also responded to on Wednesday.
"How can [you] someone hurt someone who is 265 pounds?" said Norman, exaggerating Henry's listed weight of 247. "He's a running back. But what [Lewan] should have been worrying about . . . is his quarterback because our whole line ran through him like water on rocks. I mean, gosh, you would think he'd have been doing a better job worrying about protecting him than worrying about a running back who is [247] pounds."
Norman is a player who has thrived off feuding with opponents in the past, and while his profile isn't as high as it was a few years ago, it's safe to say that his brand still hasn't changed.