Plaxico Ain't Going to a Minimum-Security White Collar Luxury Resort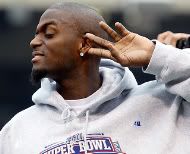 Two years in the slammer for Plaxico — book it. Aside from an NFL player not getting preferential treatment by the law (see: Stallworth, Donte), the biggest shocker in the Plaxico Burress unlicensed gun case is that the dude has actually hired a "prison consultant" to help him adjust to his new life behind bars. True story.
Burress' lawyer yesterday revealed that [Burress] has retained a prison consultant to give him the lowdown on life in the big house. "We are consulting with an expert in the field who will address and advise us, Mr. Burress and his family, on what to expect while incarcerated, and how to use his period of confinement as productively as possible," said the attorney,
Prison consultants? Are you serious? Well congratulations to the ex-con who has now found a way to make a living off his time in jail. How the heck did this come about that people get paid to explain prison life? You know, with Plaxico's gun-toting ways, you figure he'd already have plenty of connections to dudes who have been locked up — you figure they would have told him for free.
As for the penalty, I don't want to hear anything about how it's too harsh for someone just being stupid. New York enacted the law to try and clean up guns in the state. It's Plaxico's fault for not knowing it — it's not as if we're talking about making a right turn on red in NY being illegal — we're talking guns. I certainly don't want to be in a club or at a restaurant where the patrons are carrying gats. Plaxico's established a pattern of this behavior, demonstrating that he feels the rules don't apply to him. How else can you explain him being fined 40-50 times with the Giants, and bouncing checks despite being a millionaire. It all finally caught up to him.
(full disclosure: he burned me on my fantasy team last year but I still won without his dumbass)