Report: Peyton Manning could have his pick of FOX, ESPN top analyst job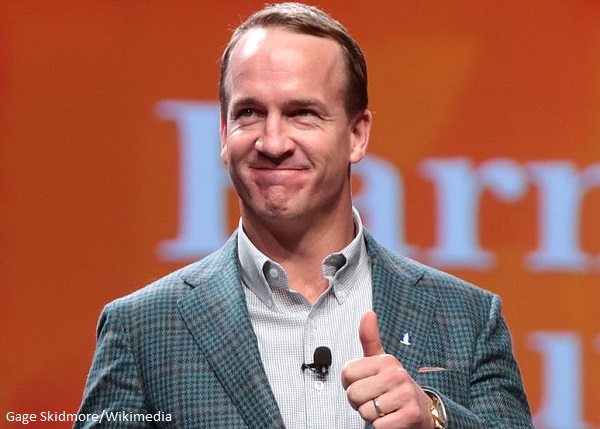 Peyton Manning has yet to say anything publicly about whether or not he is considering a career in television broadcasting in the near future, but it has become quite clear that he could have almost any job he wants in that field.
According to a report from Andrew Marchand of the New York Post, both ESPN and FOX have Manning at the top of their lists for vacancies they currently have with primetime NFL broadcasting spots. FOX tried to lure Manning into the booth last season and is planning to do so again, but Marchand notes that ESPN has been "far more aggressive" in its pursuit of the future Hall of Fame quarterback.
In fact, ESPN would reportedly consider bumping Sean McDonough out of his role as the lead play-by-play announcer for "Monday Night Football" if Manning preferred to work with someone else. Here's more:
In the words of one source, ESPN is willing to "back up the truck" for Manning, wanting to make a splash in replacing Jon Gruden as the analyst on "Monday Night Football." Gruden was reportedly the highest-paid ESPN employee, making more than $6.5 million before leaving for a 10-year, $100 million coaching deal with the Raiders.

While lead play-by-player Sean McDonough is currently in place, ESPN executives have considered a total reboot of their Monday night booth, sources said. There was a feeling that McDonough lacked chemistry with Gruden, plus NFL officials have not been fans of some of McDonough's critiques on officiating, among other topics.

"If you were going to do it, this is the time," one source said of the MNF total-reboot idea.
FOX recently inked a deal to broadcast "Thursday Night Football" for the next several years, and the network has yet to say who the announcers will be for that spot. The NFL required CBS to have its top duo of Jim Nantz and Phil Simms and then Nantz and Tony Romo work the Thursday night games in past years, but no such mandate was put into the latest TV contract. One source told Marchand that the idea of working Thursday nights rather than weekend games is one that could appeal to Manning.
For what it's worth, Las Vegas seems to think Manning is the most likely person to replace Gruden. However, there have been indications that Manning does not want to work in television and has his sights set on a different career path now that he is done playing.