Poor Form: Sidney Crosby Snubs Captain Nicklas Lidstrom on Handshake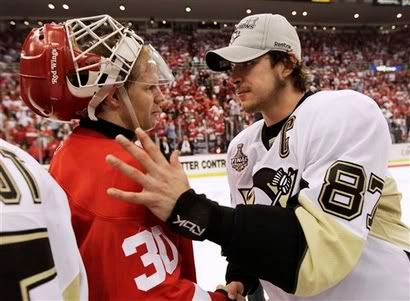 It was after Game 6 in Orlando that LeBron James, the star of the NBA, walked off the court without congratulating any of the Magic players. To compound his unsportsmanlike ways, he stormed out of the locker room without speaking to the media. Now with the Penguins winning Game 7 of the Stanley Cup Finals in Detroit 2-1, one of the stars of their league, Sidney Crosby, is being accused of some similar poor postgame comportment, arriving late for the post-series handshake lineup:
Detroit captain Nicklas Lidstrom was up front, followed by alternate captain Kris Draper, congratulating many of the new champions while waiting for Pittsburgh's captain.

"Nick was waiting and waiting, and Crosby didn't come over to shake his hand. That's ridiculous, especially as their captain, and make sure you write that [Kris Draper] said that!"

Crosby eventually skated over to shake hands with the Red Wings, but many had already headed for the dressing room. Detroit forward Johan Franzen and Crosby exchanged words, and Crosby then shook hands with goaltender Chris Osgood and some other Wings.
I remember thinking the exact same thing while I was watching the postgame celebration NBC. The problem is that Crosby was busy dealing with the media instead of taking care of the handshake tradition like he should have been. Either it was a snub on purpose or he just had a lapse in good judgment. I remember watching the players shaking hands in the background while he was doing his interview, thinking that he should have been out there. No surprise the Wings were pissed about that — Crosby needs to order his priorities better. If Detroit wants to get even, they may have a shot next year.